Some of my favorite products of LIFE come from Target and Walmart. I long for the days when I can roam the beauty aisles for +10 minutes or as long as Kenny lets me… Just getting lost in all of the fun new products.
In the mean time, here's a list of my grade A, top choice, best of the best beauty products from both store. First up: Target.
To be honest, I could film an entire video or write many paragraphs about my love for Pixi products. It is perhaps one of the most underrated beauty brands in the world. It took everything in me to narrow it down to only four of their products.
Head's up! Target is having a sale this weekend: Spend $20 and get a $5 gift card. Use code: BEAUTY. Online only.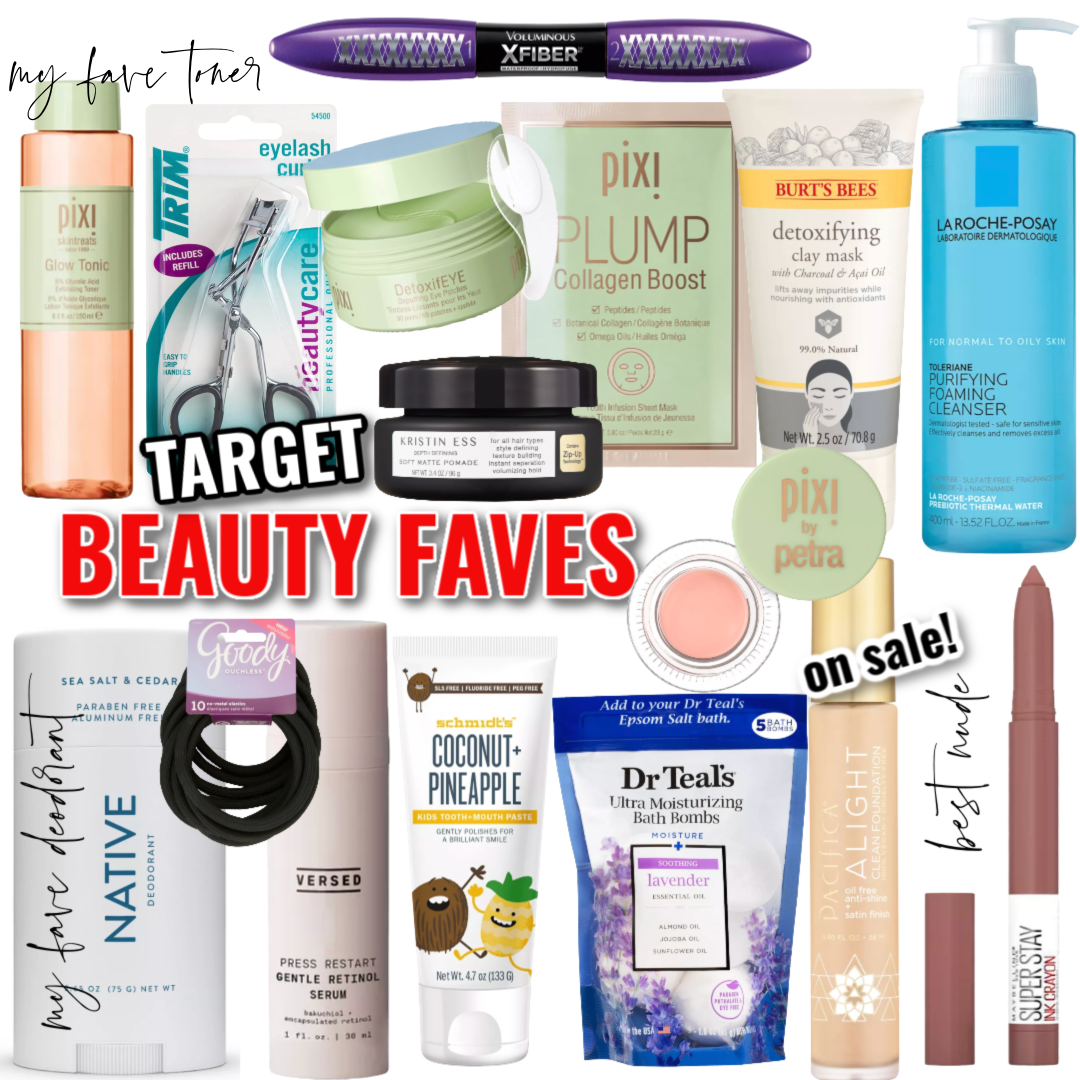 target beauty
1- Pixi Glow Tonic. I have been using this toner for years. It is the best toner in my opinion, and I've tested a bunch of them. It's alcohol free, so not drying or irritating. I feel that it truly does add glow to my skin.
2- Trim Eyelash Curlers. I have been using these $2 curlers for +10 years and I have yet to find a better pair. Try to prove me wrong about this one. I dare you.
3- Pixi Eye Gels. Personally, I feel that $0.80 per pair is pricey, but I have to check myself and realize that I'm comparing it to Amazon gels. They really are great patches and I used them just this morning. They stay in place, which is the most frustrating thing about wearing eye patches.
4- L'Oreal Fiber Mascara. I have a full video about how much I love this mascara!
5- Kristin Ess Pomade. I love this pomade for when I'm doing a sleek ponytail. Watch a tutorial on how I use it here.
6- Pixi Sheet Masks. These collagen sheet masks are wonderful! I feel so glowy after using.
7- Burt's Bees Clay Mask. This clean beauty mask is excellent for purifying your skin. I use charcoal and clay masks regularly to keep my pores clean. I also use them for spot treatment overnight. Clay and charcoal dry out pimples quickly.
8- La Roche-Posay Cleanser. I became a fan of this brand when we lived in Vancouver. I love this foaming cleanser because it's so gentle and it pairs so well with my Clarisonic.
9- Native Deodorant. I have been aluminum free for years now. It's not an ingredient I ever plan on allowing to creep back into my routine. Native is one of the ONLY natural deodorants that actually work for me. This scent is hands down my fave. FYI- this deodorant is also Matt approved.
10- Goody Ouchless Hair Ties. These hair ties are so reasonable and work so well in both my hair and Kenny's. No more knots, PTL!
11- Versed Retinol. I have not tried this one yet but it's in my top products because A) I WILL try it and B) the fact that you can now buy retinol at Target has me like 🤯. I'm a HUGE fan of retinol and think every woman over 25 and not pregnant or breastfeeding should consider adding it to their skincare lineup. You HAVE to spot test retinol because it can be highly irritating.
12- Schmidt's Toothpaste. This toothpaste along with the toothbrush song are solely responsible for my two year old being crazy excited to brush her teeth every night.
13- Epsom Salt. Every house in the world should have epsom salt in their bathroom. Epsom salt is positively a must for sore muscles. The lavender scent just makes it even better.
14- Pixi Corrector. I never do my makeup without first applying corrector. This corrector is a fabulous dupe for the cult fave, Bobbi Brown Peach Corrector.
15- Pacifica Foundation. This clean foundation is always in my makeup bag. It's such a wonderful product. The formula is oil-free but still hydrating. It's currently on sale!
16- "Trust Your Gut" Maybelline Lipstick. Perhaps my favorite nude lipstick of life. And it's only $7.99. SEVEN NINETY NINE! Buy one now and then tag me in your photos because you will love it! I can barely even think about trying another lipstick I love this one that much!!
I hope you found a new product or two that you want to try!! If so, take advantage of the current beauty sale, coupon code: BEAUTY. My Walmart beauty faves are coming soon, so stay tuned. Tomorrow I'll be posting my Amazon try-on haul on YouTube, so please be sure to subscribe to my channel here.
shop this post