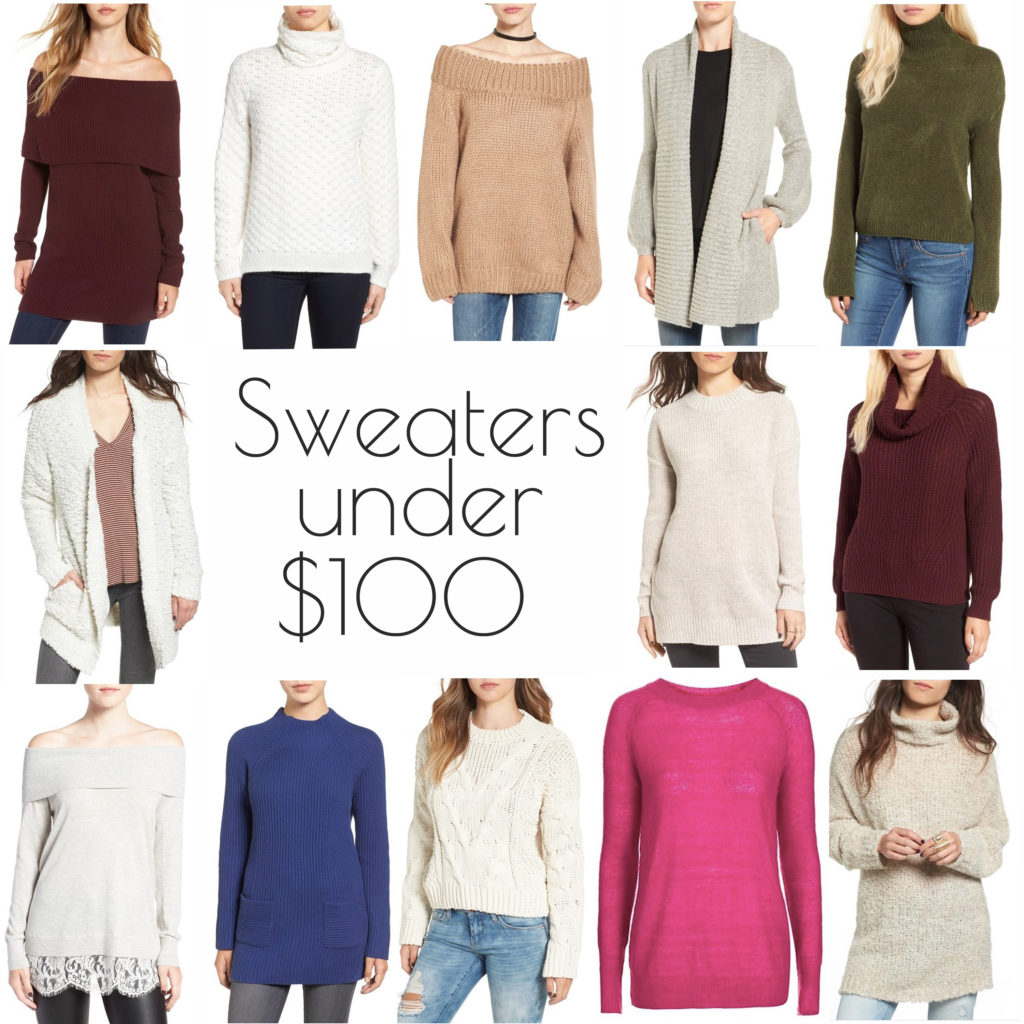 According to social media, everyone loves Fall. Maybe it's because of Football season? Or is it because of all things "Pumpkin Spice?" Maybe it's Halloween? Personally, I think it's the opportunity to layer clothes and wear cozy clothes.
The cooler temps mean it's officially sweater weather. Sweater weather means it's time to stock up your closet with new cozy sweaters and cardigans.
There are definitely sweaters that I like to splurge on, but there are others that I want to be more budget friendly. That's why I chose to do this post… To give you a list of 13 great sweaters all under $100. I have actually purchased 6 of these sweaters myself!
The biggest sweater trend I've noticed this season is off-the-shoulder sweaters (see this post for inspo). I'm a big fan of anything off-the-shoulder, so I'm happy to jump on this bandwagon.
Another trend I've been seeing and loving, is extra long sleeves. What I mean by this is sleeves that cover your hands (like in this photo I post last night on Instagram) or hang beyond your top layer by several inches. I love this trend because it helps keep your hands toasty in cold weather, acting sort of like fingerless gloves. And let's be real… I just like to be cozy at all times.
The final trend I want to talk about is chunky turtleneck sweaters. The sweater I'm wearing in this photo is my current favorite cozy turtleneck that I'm totally in love with (although technically it's mock neck, not turtleneck).
This round-up has so many great sweater options. There's something for every type of girl with every type of style taste. I love that there's even a hot pink sweater for the bright color lovers out there! There are no fashion laws, so if you want to wear bright colors, white jeans, or whatever this Fall… You do you, boo boo!
Shop These Sweaters: