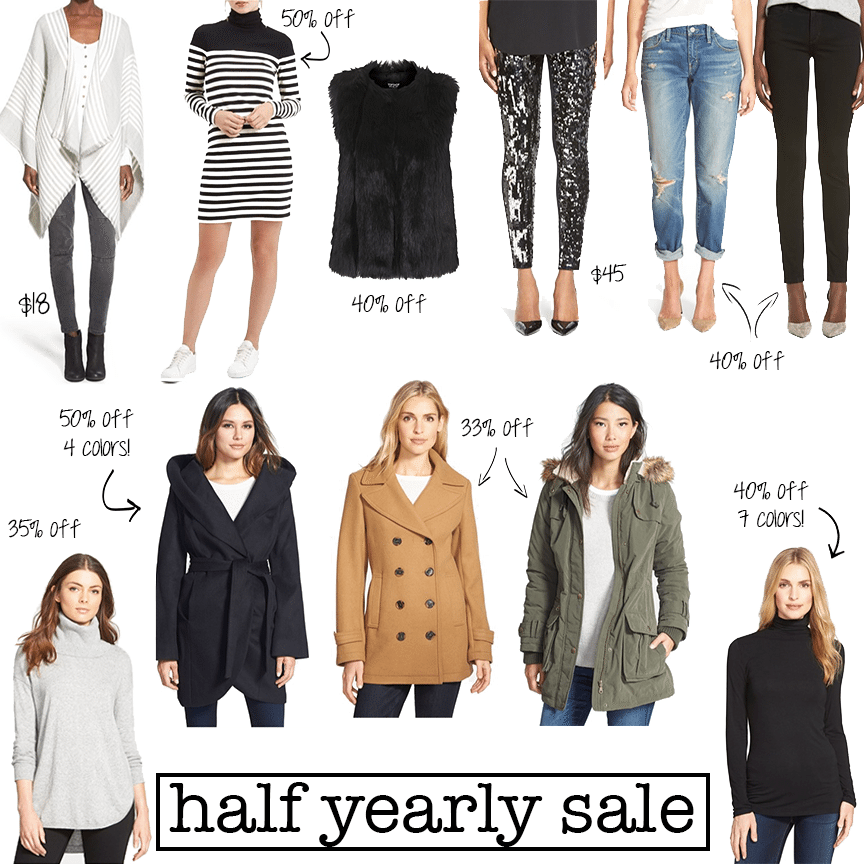 If you didn't already know, Nordstrom is my all-time favorite store.  I love that you can buy anything from a $12 pair of sunglasses to a $2000 designer handbag.  The selection is the best and the sales?  Oh, the sales!  The half yearly sale kicked off today and man is it a good one!  Everything you could possibly think of is included in this massive clearance and it's all up to 50% off!  You can get everything from clothes to makeup at awesome prices, so it's a great time to bust out those Christmas gift cards you got and do some shopping!  Also, if you have any birthdays or Valentine's Day gifts that you'll need to get, now is a great time to mark them off your list at a fraction of the regular price.
I bought this Tahari Wrap Coat last winter and love it still just as much this year.  It's incredibly warm and I love the oversized collar that easily turns into a stylish hood.  It comes in four different colors (I have it in black) and is majorly on sale for 50% off!  I also own this grey turtleneck sweater, which you've already seen me wear multiple times the past couple of months.  It's so soft and cozy.  I love it so much that I bought it in "Winter White" for my mom for Christmas.  It's now 35% off, which makes it less than $50.  It's honestly worth every penny and is one of those sweaters that you'll wear for years to come.
If you still need an outfit for New Years Eve, these sequin leggings are a must.  If you're a girl who loves sparkle, then sequins make total sense for you on such a festive night.  I love the idea of an all black, super chic look for NYE, so pairing these leggings with the simple black turtleneck and a fabulous pair of heels would be a great holiday choice!
Shop These Half Yearly Sale Pieces: