Pinterest Engagement Party!
http://angelalanter.com/wp-content/uploads/2013/02/440A0280-1024x683.jpg
1024
683
Angela Lanter
Angela Lanter
http://1.gravatar.com/avatar/abdeb6520e062069acc35d663a18d859?s=96&d=mm&r=g
Early last year, my mom threw us an engagement party back home in Ohio. Really, it was a Pinterest party more than it was an engagement party. I took basically every party idea ever posted on Pinterest and used it on our party. I had so much help from so many awesome friends and family members.. I couldn't have pulled off all this without each of them!
Here's an inside look at our party decorations!
My wonderful cousin made this adorable banner that said, "He put a ring on it!" and it hung over our water station.
I used fishing line and sewed up a valance of balloons to hang over the longest wall in the patio room.
Each table had a handmade runner which were made by my aunt. The colors were hot pink, orange and turquoise. So each table alternated colors of the runner along with alternated colors of napkins. Each table also had a mason jar with our photos back to back tied up with a pretty little bow and our initials with a handmade and painted plus sign.
For our menus, I found $1.00 chalkboards at Joann's then we painted them different colors. Once dried, we used sandpaper to give them a distressed look. I found paper straws in our colors on Etsy and had them separated by color and placed them in Mason jars along with Hawaiian umbrellas for the drinks.
For cups, we used mason jars. We painted hearts on with chalkboard spray paint. The chalkboard paint wasn't as user friendly as we had hoped. I originally planned to have chalk so everyone could write their own name on their cups. The paint wouldn't allow chalk so instead we chose to use white paint pens and write our initials on the jars.
We had "Hillbilly Wine Glasses" for our drinks 🙂
Instead of having a cake at the party, my mom created a cupcake tower. The top layer was a coconut cake. Please note the incredible tutu skirt my aunt made for the cake stand.. Could you die?! The table skirt was a tutu skirt too, but hot pink with a turquoise ribbon for a band around the table.
For a special treat for my amazing fiancé I had Star Wars, Batman, Captain America and Spiderman cookies made for the party!
My mom made these adorable cupcake bouquets. She used flower pots and put a styrofoam ball inside. Then she used toothpicks to stick the cupcakes into the styrofoam. She used pieces of tulle fabric in between the cupcakes but you could absolutely use tissue paper as separators also.
Now comes my favorite part.. The candy bar! The picture was so easy. We used sticker letters and cut out the shape of a mustache and framed it attached to hot pink scrapbook paper. The candy bouquets are vases filled with gumballs and a styrofoam ball on top. We had to cutoff the bottom of the ball so it would sit evenly on the gumballs. Then I just stuck Dumdum suckers all over the styrofoam to make it mimic the appearance of a flower arrangement.
This isn't a fabulous photo, but you can see here that we used all shapes and sizes of apothecary jars and filled them with different candies in our colors. We finished them off by tying a bow on each jar that matched the color of the candy.
For the candy bags, I handmade each bag. I used white paper bags I found at Wal-Mart and used a stamp of the Eiffel Tower I found at Paper Source (I think!) and free handed the writing. I used a hole punch to make two holes and tied a hot pink bow on each bag. My inspiration came from a party favor bag I had seen on Etsy.
Now onto the pompoms.. These were SO much work. We had a pompom alternating in color attached to the back of every chair in the room. We also had them hanging from the ceiling with fishing line over the buffet and drink area.
Here's a behind the scenes photo of the day before the party where you can see the pompoms hanging from the ceiling. By the time we were done, there were a lot more hanging then what is shown here.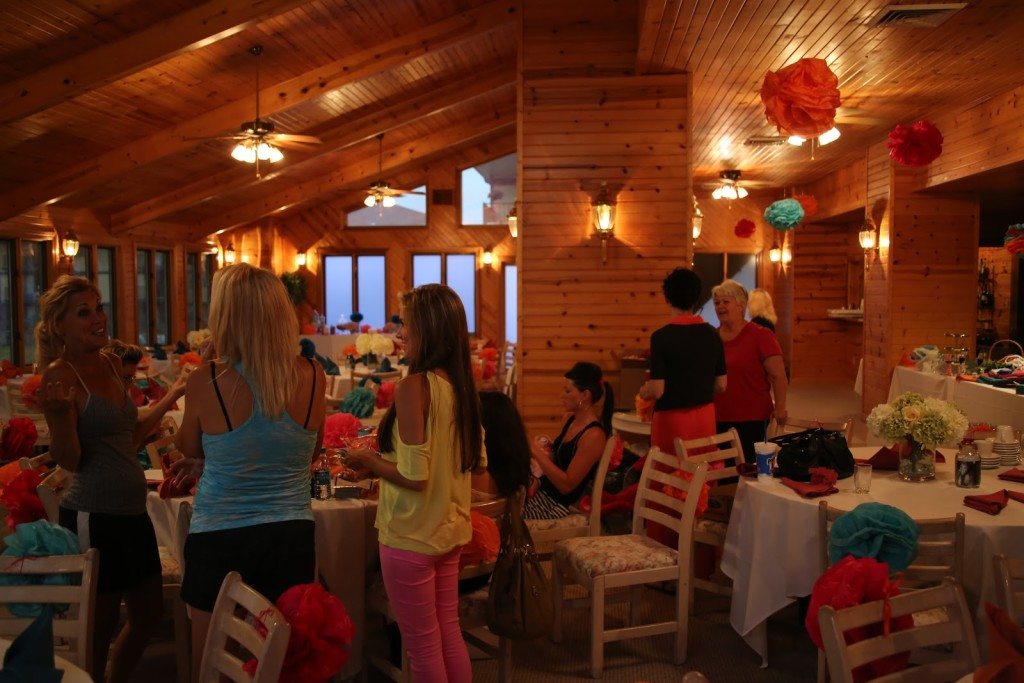 Finally, behind the buffet table was these glass windows that were so boring. So I decided to string up some fishing line and hang personal photos of us with clothespins and made it look like a clothesline of photos hanging every which way. Turned out so cute!
[I'll try to find a photo to post!]
For a party favor, we made paper holders for sparklers that read, "Sparks flew when we met!" The bucket holding the sparklers was also painted with chalkboard paint and Sparklers written on it. We used Mason jars to hold our matches and made a sign with scrapbook paper and sticker letters to "find your perfect match".