I'm back!
http://angelalanter.com/wp-content/uploads/2013/07/applepbquinoa.jpg
612
612
Angela Lanter
Angela Lanter
http://1.gravatar.com/avatar/abdeb6520e062069acc35d663a18d859?s=96&d=mm&r=g
Hey guys! Sorry for the absence.. But I've been one busy girl. Since my last post a couple of months ago, I've quit my job of 7.5 years to become a housewife, I married the man of my dreams at the most gorgeous wedding I could have ever imagined, we honeymooned in the Caribbean, and now we're getting ready to make a move across the country for my hubby's newest project.
Since being back from our honeymoon, we're on a mission to get back into shape.. Which means lots of clean eating and exercise. I've been working on a bunch of new recipes and I'll be blogging some of my recipes. I've posted some photos of my creations on my Instagram.
Here's one of my hubby's favorite snacks, peanut butter apple quinoa: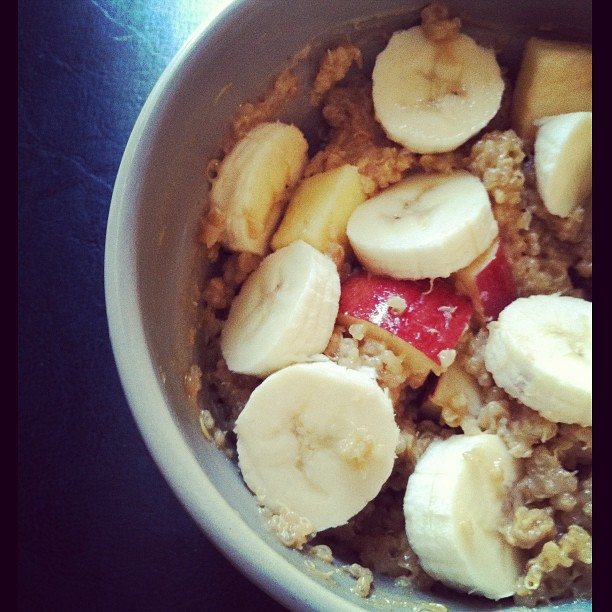 I've seen variations on the internet of peanut butter quinoa. I'm not sure where I found the original recipe, but this is my adaptation of it.
Prepare your quinoa according to package directions. I make at least one cup so I have plenty of leftovers for later. While your quinoa is cooking, chop up about half of an apple. Once your quinoa is warm, mix in peanut butter. For one large serving, I mixed in about two tablespoons of peanut butter. An optional ingredient is organic honey- about one tablespoon or so. Once the peanut butter is melted, mix in your apples. I topped with sliced bananas, but you could top with sliced strawberries, blueberries, pretty much whatever your little heart desires. This makes a delicious breakfast or dessert!