Search for the Perfect Gown
http://angelalanter.com/wp-content/uploads/2013/07/blog-veilview.jpg
720
960
Angela Lanter
Angela Lanter
http://1.gravatar.com/avatar/abdeb6520e062069acc35d663a18d859?s=96&d=mm&r=g
As you all know, I'm a newlywed.. Yay!!! In my opinion, our wedding was the most amazing wedding in the history of the world! But what newlywed bride doesn't feel that way?
I've always been that girl who dreamt about her wedding day her entire life. I've also been the girl that knows what they want when they see it. So when it came to my wedding gown, I already knew exactly what I wanted. I also knew which style veil I wanted. After doing a little research online, I fell head over heels with one wedding gown designer in particular.. My gown had to be Lazaro! It took one trip to his bridal store here in LA for me to find my dress.
So, last November my mom and I went into the store and I gave them this wish list:
– Cathedral (or semi-cathedral) length veil edged with lace
– Shorter train than the veil
I found my veil immediately. I decided that the veil was staying so I had to find a dress to work with it. I tried on bright white dresses and it immediately became clear that white was
not
my color. Some brides look beautiful in white, but I found out that I'm an ivory girl. This has everything to do with what season you are (skin tone, hair color & eye color) which I'll have to blog about another time.
After trying on a TON of gowns, nothing was matching the description I gave of my dream dress. Then a gown was brought out that I fell in love with.. the bodice. But I HATED the skirt. It had three of the biggest fabric flowers I'd ever seen in my life.. It was not me at. all. One of the Lazaro girls suggested a custom gown, so she found another dress with the most gorgeous skirt I'd ever laid eyes on. She held up the skirt to the dress I was already wearing (covering up the awful flowers and only showing the bodice) and immediately my mom started crying. I knew that was it! I didn't look at even one more dress, I knew this was THE dress. Perfection!!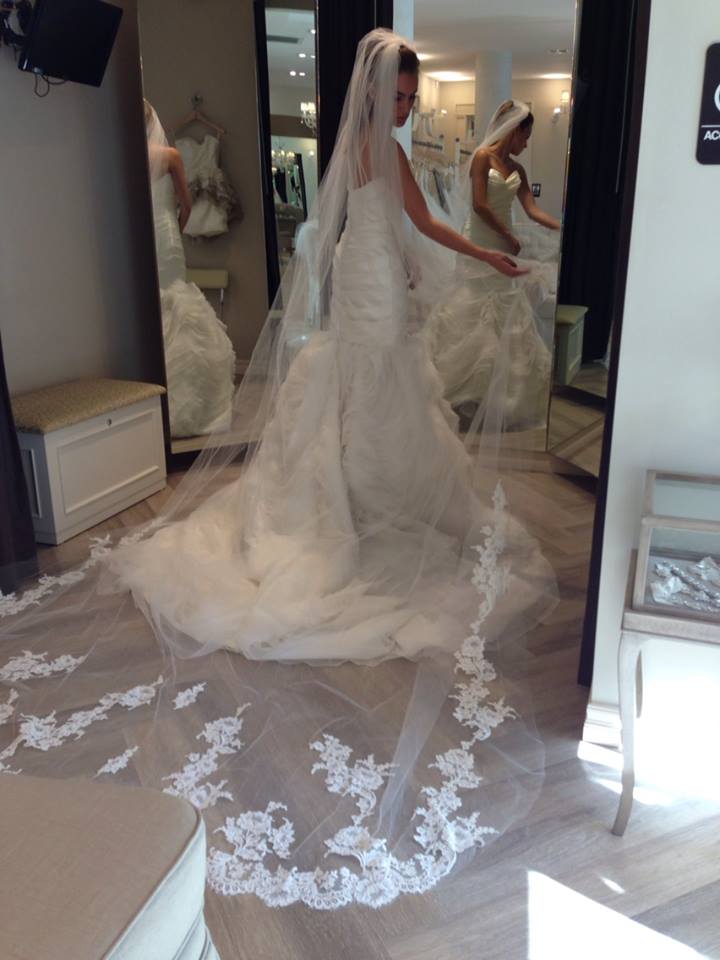 Here's a view of my veil at my first fitting. This is a before alterations shot. The veil was shortened by about 6″ or so.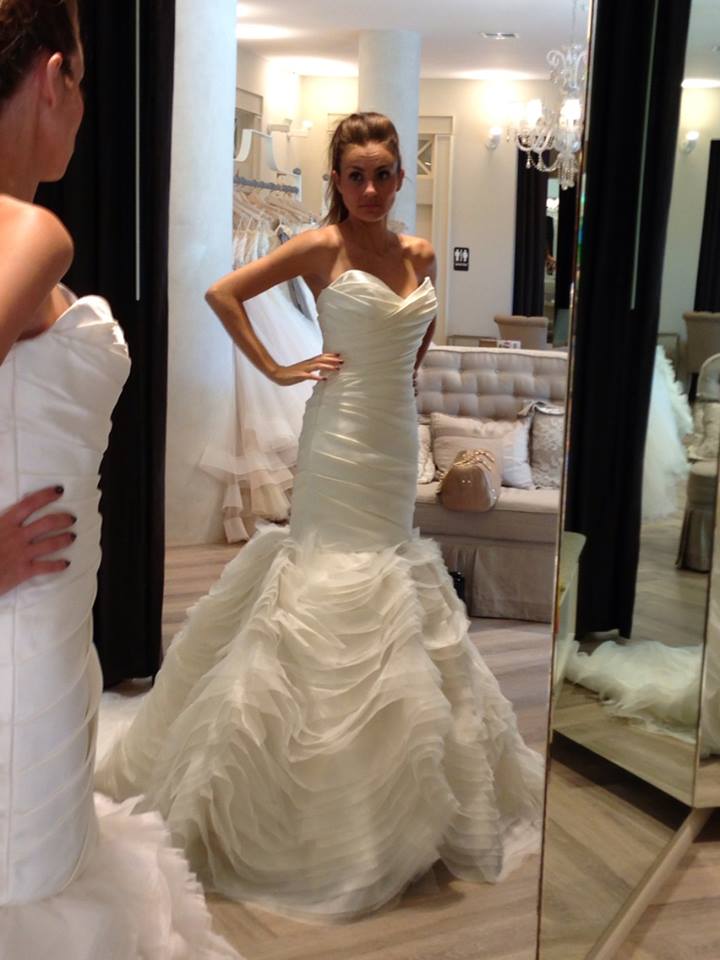 This photo was also taken at my first fitting. You can see here there are alterations needed in my bust, waist and hips. I had heard nightmare stories about brides who needed so many alterations and how it took weeks to get the dress right.. I only needed one trip to the seamstress thank heavens!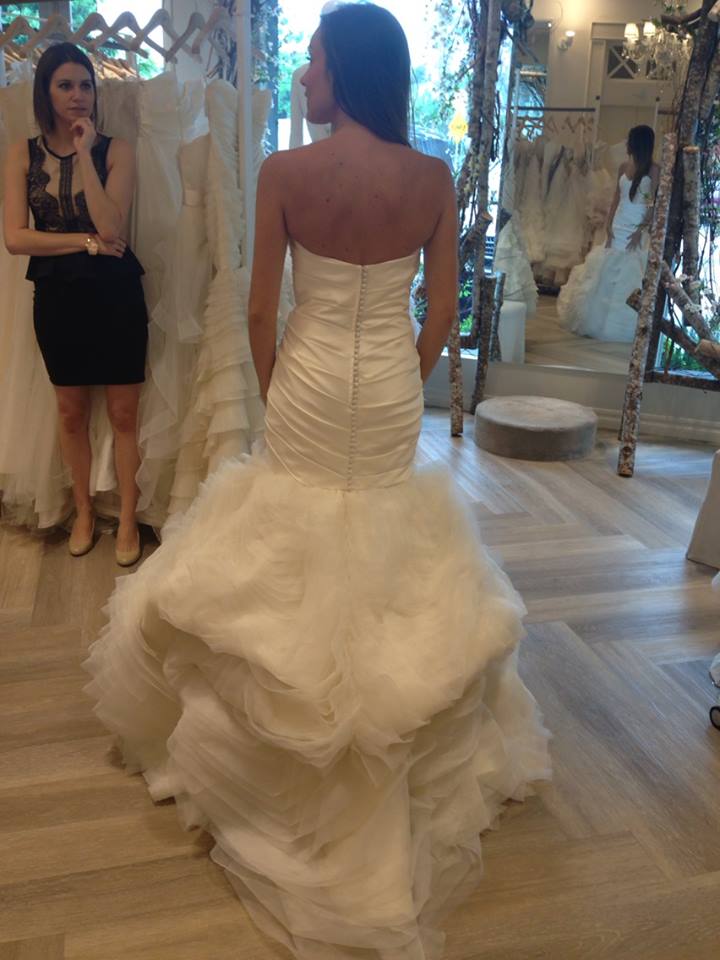 Here I am at my last visit to the bridal store to make sure everything was right.. The dress fit like a glove! In this photo, my train is in a French bustle which I loved so much more than a traditional bustle.. SO gorgeous!
My dress was exactly everything I had dreamed it would be! I hope you enjoyed a little peak into my wedding gown shopping experience! 🙂